Power of One Pasadenans Shaping Our Community
© 2003 Traude Gomez and Brian Biery excerpt reproduced with permission of the authors
Power of One by Traude Gomez
Photography by Brian Biery ISBN 0-9744807-0-3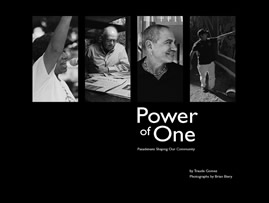 Jeff Brown
Sports Coach, Pasadena Y.E.S
Shooting Star
"Win or lose, hey, you did your best. We all won." Coach Jeff Brown invites any kid with a desire to dribble to come into the Wilson Middle School gym and shoot hoops on Saturdays with his Pasadena Y.E.S. basketball league. Once the games start, Jeff doesn't let spectators shout in a competitive fashion. He'll move players out of the way so that the shy ones can shoot, handing them the ball if he must. If one team gains a big point spread, he'll stop the clock. This competition-free atmosphere underscores the philosophy of Pasadena Y.E.S. "We're not trying to win games, we're trying to win over the kids," says Jeff. "Kids are winning if they get exercise, if they're making friends. The final score is irrelevant. And if that changes,I'll shut down Pasadena Y.E.S and do something else."
Jeff will then shoot you a wide grin and repeat his favorite mantra and the league's slogan, "Who wins? Everybody wins."
Hang out with Jeff as he works the gym and it's clear he's having as much fun as the boys and girls running about him with dreams of Michael Jordan-esque fame racing through their heads. "We love to watch the kids play on Saturdays," he says. "It's so much fun. Win or lose, hey, you did your best."
Jeff Brown is a gregarious man with a big, easy smile. A New Orleans accent colors his words as he cajoles his players, the coaches, and the parents. As director of Pasadena Y.E.S. since 1996, Jeff manages two to three hundred boys and girls and thirty volunteer coaches on two sites every Saturday from morning to night. Jeff dreams of having a thousand kids playing on at least four sites. "We're trying to save as many of them as we can," he states, because many of his players come from disadvantaged homes or tough circumstances. "They need to know someone cares about them," he adds. "They need discipline and boundaries. They don't act like they want it, but they do."
About a quarter of Jeff's players come through the Night Basketball and Books program, for which Pasadena Y.E.S. administers the sports component. Night Basketball and Books was formed shortly after the 1993 Halloween murders of three Pasadena teenagers. Local church leaders and community residents established the nonprofit organization to provide an alternative to idle time on the streets and to address the lack of education, life skills, and self-esteem that can plague young people. Program youth also spend part of their Saturday at Wilson studying academics.
The rest of Jeff's players come from schools throughout Pasadena, and while the players gravitate toward Jeff's charisma like fireflies, parents are equally taken with his energy, singing praises about the special touch he has with their kids. The irony, of course, is that Jeff never set out to become a basketball coach. Born and raised in New Orleans, Jeff moved to Los Angeles in 1978 to follow a brother and worked for many years within the computer field. When his job was reassigned to Orange County, he quit to stay near his son, who lived in Pasadena. He fell into a series of jobs, including coaching at the YMCA. Jeff had never coached before; in fact, he'd never even really played basketball. "I think I just have a gift," he says of his coaching ability. "I wish I'd learned earlier in life that it was my gift."
When the YMCA decided in 1994 not to sponsor a summer basketball league, Jeff left and he and another coach started their own league called Triple Crown Youth Sports. The partners, renting an unused gym from the William Carey International University, poured all their passion and drive (as well as their own money) into Triple Crown. In 1996 the L.A.-based Kids in Sports came in as a sponsor with the stipulation that Triple Crown merge with Pasadena Y.E.S, the sports component of Night Basketball and Books that existed then only in name.
Though coaching youth in sports is now Jeff's life, it's not exactly money in the bank. To sustain himself Jeff holds sometimes as many as seven part-time jobs. He has taught physical education or coached at Wilson Middle School, Burbank School, Weizmann Day School, St. Elizabeth Parish School, and Marshall High School. On Sundays he privately coaches high school basketball players. "It seems I have coached every child in Pasadena," he says.
Although Jeff knows he influences the players, his only concern is to "treat them all the same and treat them right. You don't know which kids you are affecting," he says. "You can't know." He remembers one troublesome boy who wouldn'tt listen or engage with him. One day he ran into the kid on the street, and the boy came up and hugged him and said, "I loved you like a daddy." Jeff was dumbfounded. "When you see them out on the street and they give you a hug and say, I love you coach, you can't pay for that."